When booking my one way flight, I found that the cheapest options were Icelandic airlines. This meant stopping in Iceland for some period of time, which did not bother me. Why not save hundreds of dollars and visit another country?!
Even if you need round trip tickets, you can arrange to "stop-over" in Iceland before or after your trip to Europe. Iceland Air allowed me to check 2 bags for free, and had more convenient times and airport options than WOW airlines.
The most common thing to do during your "stop-over" is the Blue Lagoon. The Blue Lagoon is a 20 minute drive from the airport and about 45 minutes from Reykjavik. This means if you are only in Iceland for 12 hours, you have plenty of time to relax at this Geo-thermal spa.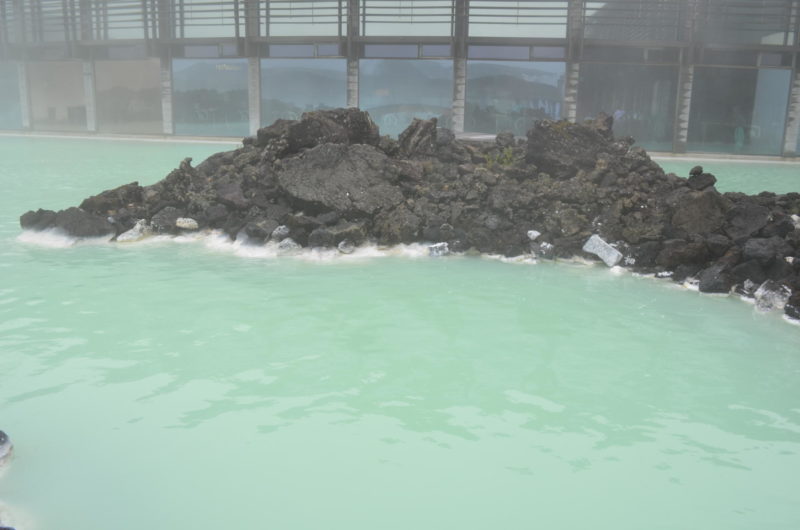 Tip: Reserve your tickets ahead of time
The Lagoon is a popular tourist attraction, and can reach capacity at certain times. You will need to book your time slot (of when you will arrive) a few weeks in advance. Give yourself about 2 hours from when you land if you are going straight from the airport.
Tip: Book your bus transfers with Blue Lagoon ticket
When booking your ticket, book your bus shuttle. If you are only in Iceland for a few hours, the transfer would be to and from the airport. If you are staying longer, you can choose to be picked up and dropped off at your hotel or hostel. Personally, I was picked up at the airport and then dropped off at my hostel. When I left the next morning, I had to arrange a third shuttle as a one way to the airport. Book your shuttle for an hour after you land or an hour before you want to arrive at the Blue Lagoon.
Once you arrive, store your bags if needed and proceed to the check in area. You can store as many bags as you want, but note it is 500 ISK, or $5 USD per bag.
Since you must have booked your time in advance, expect a line of everyone checking in at once (especially if you all got off the same bus). You will receive your wristband, which locks and unlocks your locker, and serves are your open tab. You can order drinks and food with it and pay for it at the end of your visit.
Tip: Upgrade to the Comfort Package
Upgrading to the next higher package allowed me to get a towel and robe. This was very convenient considering it was raining on and off during my visit. On top of that, I got a free drink (could have been beer, wine, juice, smoothie, ANYTHING) and an algae mask. For only 15 euro more it was  definitely worth it than carrying around a wet towel.
Tip: Having booked a massage allows you to bi-pass the check in line
Your booking into the Lagoon will be about $50 USD, so I understand not wanting to splurge on a massage. I did however, and I am glad I did. Not only was I able to by-pass the general check in line, but I was able to have access to a part of the Lagoon the general was not. This area was quieter and not as busy which made it much more relaxing.    
I thought that the rain would have made my time in the water miserable, but it actually made me enjoy being in the water. The water felt great since it was colder outside, however, this made getting out of the water worse than getting out of a hot tub.
Tip: Shower beforehand
When you sign in they tell you that you must shower naked. This is to keep the water clean, and is actually very hygienic. Don't be that person who doesn't wash before you get in!
Tip: Put Conditioner in your hair every 30 min
A part of washing before getting in the water is to condition your hair. Yes, the water does wonders for your skin, but NOT for your hair. I recommended putting conditioner in and not rinsing it out before you enter. If you dip your hair in the water, do yourself a favor and get out every 30 min to put more in. You will thank me later.
The Lagoon itself is actually quite large. Once you get a silica mask, wander around to the floating bar and waterfall. They have pool noodles in the larger open area where there is much more space. Most of the lagoon is about 4 feet deep, but there were areas where I could not touch the bottom being 5 feet short.
Tip: Put away your phone
Yes, they will have waterproof phone cases to sell to you so you can take pictures and be on your phone. Everyone does it, but try to step away from being so connected and immerse yourself in the natural beauty of the space. It was actually very annoying to me how many people were having "photo-shoots" and "snapping." I only brought my phone out before my massage, and didn't take any pictures in the water.
Tip: Relax and enjoy yourself
You are here on vacation, or on the way to holiday, so take a moment to breathe.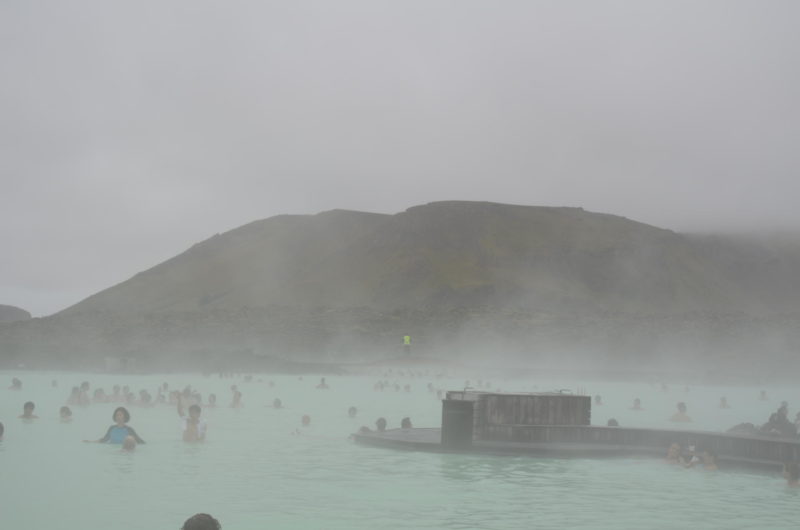 I spent about 5 hours at the Blue Lagoon. 2 in the water, including a 30 min massage, 2 taking a nap in a lounge chair  (jet-lag is real) and the last hour eating, walking the property and shopping the gift shop. I then got my bags and hopped on the FlyBus shuttle bus to my hostel.
Tip: Ask questions about the FlyBus Shuttle
As I suggested, buy your bus tickets ahead of time. They will drop you off and pick you up right in front of your hotel/hostel. However, there is no good directions on your ticket about where to find the bus at the airport or Blue Lagoon. At the airport, you have to walk toward the Rental Car shuttle pick up, and find your bus parked about 10 minutes before it is set to leave. DON'T THROW AWAY YOUR TICKET, as it is also your return voucher. At the Blue Lagoon, the busses park in front of the luggage storage building, but they do not have posted times of when busses arrive or leave. I asked a gentleman in the storage room and he told me when the next one would leave toward my destination.
By the time I got into Reykjavik it was 4 pm. I checked into my hostel, re-arranged my luggage, showered again (my hair had turned into a crispy, hay like mess). I went to the Hallgrimskirkja church and walked around downtown. I found a sports bar to watch the Olympics and went back to my hostel to sleep. I was in Iceland for less than 24 hours, and in Reykjavik for less than 12. I would certainly recommend stopping here to save money on flights, and I am sure I will take advantage of it again to see more of this beautiful Island.
Have you done a Stop-Over in Iceland?