In the past week I've been to 3 concerts at 3 venues. I already reviewed What So Not at Showcase because it was very similar to Le Faust so here is my review of the other two artists at two other venues : Flume at Le Zenith and Zeds Dead at Zig Zag Club.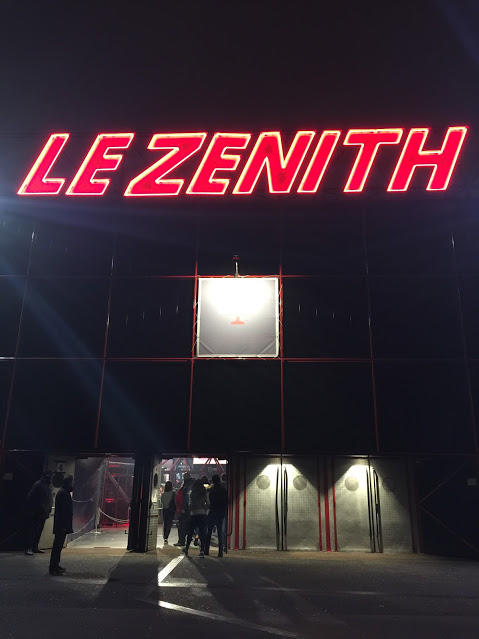 Wednesday night in the 19th Arrondissement, Le Zenith hosted Flume. Flume had two opening acts but I missed them because I arrived around 8.30 pm. After finding my friends, we worked our way onto the floor. The show was sold out and most people had standing room only tickets. We worked our way to the middle, but were all the way in the back. We decided to stand on the bleachers so we could see.
Le Zenith itself is a very large venue, holding more than 6000 people. I liked the layout, as you entered and there were food and drink options. It was in the shape of a semi-circle and you could access the bleacher seats from both the floor and the mezzanine area.
Flume himself was amazing. His graphics were unreal and the light show matched. He played all of his hit songs including: Say It, Never Be Like You, Sleepless, Tennis Court and Core by RL Grime. He left and the crowd called for an Encore. He came back out and played You and Me and Tiny Cities. I was really impressed by the entire show. Interestingly enough, Flume used to be a part of What So Not. They grew up together and started making music together. I went with the same friends to What So Not and Flume, and we were discussing how strange it was that Flume was so much bigger than What So Not. She liked Flume better, but I liked What So Not more. I enjoyed the overall show of Flume, but I like What So Not's style of house better.
Saturday night was at a smaller venue in the 16th, Zig Zag Club. This was definitely more of a club than a concert venue. When you entered you walked down stairs to check your coat and get drinks at the bar. They had bathrooms on this floor as well. Then you went down another set of stairs to the floor. You could see the stage and entire dance floor from the first level and it was just an awesome party! It wasn't too large, but enough to feel like a part of the crowd.
At first I stayed up top to take in the entire atmosphere. When I decided to go down to the floor, I worked my way all the way to the front. I had a great view of Zeds Dead for the entire set. I was next to the bass, which was a little too close for comfort, but it made the experience even more physical. This club only held 1200 people and it only cost 20 euro. Flume was 40€.
It seems as though every concert I go to in Paris gets better than the last. With that being said, I would have to say that I preferred Flume over Zeds Dead, but I loved Zig Zag Club more than Le Zenith. I danced more on Saturday with Zeds Dead than on Wednesday with Flume, but I loved the entire show that Flume put on. Being up front for Zeds Dead was awesome and it actually made me a huge fan of them. Hooks and DC really worked as a team between the boards and working the crowd. Having a front row view I could see when something went wrong and see them get upset. This must have happened 4 times, from either the mic not working to them trying to change the lights. It showed me they cared, and when they left the stage they walked right in front of me and both grabbed my hands! I would definitely see them again and I hope to go to another concert at Zig Zag. I may be going back to Le Zenith next week for M83, so stay tuned!
Do you prefer being in the front of the crowd or in the back when you go to concerts?