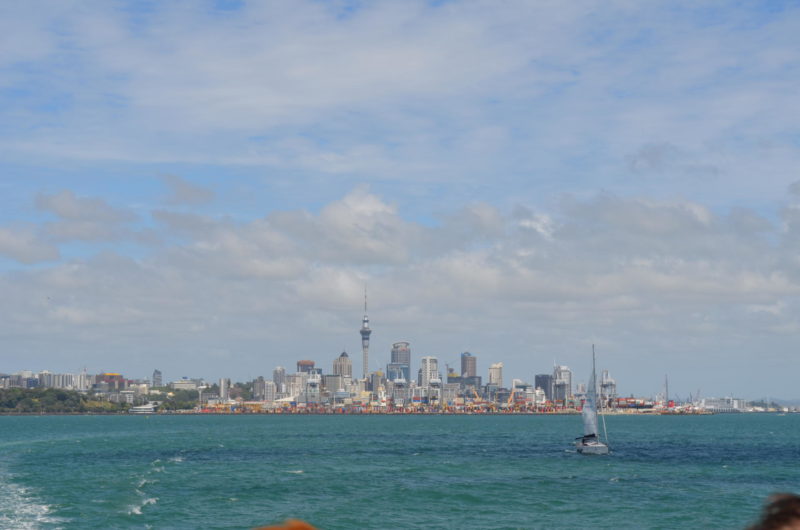 "Paris is the City of Love, but Auckland is the City of Many Lovers." – Lonely Planet
Auckland didn't win me over at first. It seemed like any other city in the summertime. I also had a different view as a "backpacker" who was traveling, staying up late and meeting tons of cool people. What changed my mind about Auckland, and New Zealand, was the people.
They say "Thank You Driver" when getting off the public transit bus


At first I was caught off guard and thought it was a one-off person yelling up to the driver when getting off from the back door. Then I noticed that a lot, almost everyone, says "Thanks" to the driver when exiting. Having been to lots of cities and used mass transit in the process, I have never seen, or heard, anything like this. I am both amazed and pleasantly happy to see the respect everyone has for each other. Little things, such as thanking your bus driver, can go a long way.

They help travelers


From giving advice on where to go or what to eat, they really want visitors to have a great time. I will not lie, I had a hard time finding a job. I posted on a Facebook group and a really nice gentleman gave me a contact at his company. I was hired a few days later! Because of him, and the job, I am now staying longer in this great city.

They are easy going


My roomie, or "flattie," is Kiwi and she is one of the most laid back people I have ever met. She got me involved in her Field Hockey League and has been one of the most accommodating people I've met in NZ. My first real girlfriend, and work mate, is also Kiwi. Not only do we have a lot in common, but she's just fun to be around. She introduced me to some great group of people who are up for anything. Most Kiwis are active and try new things, and thats something I appreciate and the kind of people I want to be around.
They appreciate the arts


New Zealand is a strange place as it is quite an interesting melting pot. There are Maori, the indigenous people who are still a large population. There are Western European settlers, who colonized the Island. Then there is a large number of Asian immigrants. All of these backgrounds have allowed for an interesting art and music scene. There is tons of street art and lots of musical acts almost every night. Again, locals put themselves out there to see, hear and eat new things or engage in another cultures celebrations!


There are LOTS of Veggie, Vegan and Organic choices

I have cut out meat from my diet for over 2 years. I try to be vegan as much as possible, but I am basically a Veggie. Seeing so many options at restaurants and all over the supermarkets makes it easy to chose what I really want to eat. On top of that, its just healthier in general!

Their style
Most large cities have an "upscale" style. Think NYC, Paris, London. Aucklander's wear whatever they want and I'm OBSESSED. I feel like I fit in because I can throw on a few favorite items and they just work here. If I wore this around Philadelphia I know I would get some looks: 
This isn't just for the younger generations; I've seen business women with pink highlights in her hair and she looked fab. To me, its just a general thought process where everyone can be themselves. There seems to be less judgement towards others which makes everyone happier.

Their Work-Life Balance

Lion Rock, Piha Beach: 45 min West of Auckland City
You cannot go anywhere in New Zealand without being 30 minutes from a beach. Being able to have access to the tranquil ocean and get some sand between your toes can really do wonders to your health. It reconnects you to nature and makes you remember what really matters. I think this is one reason why they are all so relaxed… they are able to step away from a hard work week by taking less than an hour drive in any direction to any kind of beach they want.
This connects to their work life balance because most working adults really do "dis-connect" on their time off to enjoy family, friends, nature and food.

They appreciate nature


From the amount of public parks, to all of the free events they hold at them year round, Aucklander's really take care of their environment. Again, this is something that is important to me and makes me want to stay here as long as possible. It's so nice to finally feel I fully fit in somewhere.
Auckland, and New Zealand in general, get a lot of sun exposure. There is a hole in the ozone layer above them, so if and when you come to visit, make sure you bring sunscreen and apply it several times throughout the day. My favorite is Neutrogena Ultra-Sheer, but be sure to buy it before you come because its somewhat pricey here!
What do you love about Auckland? Or your city?