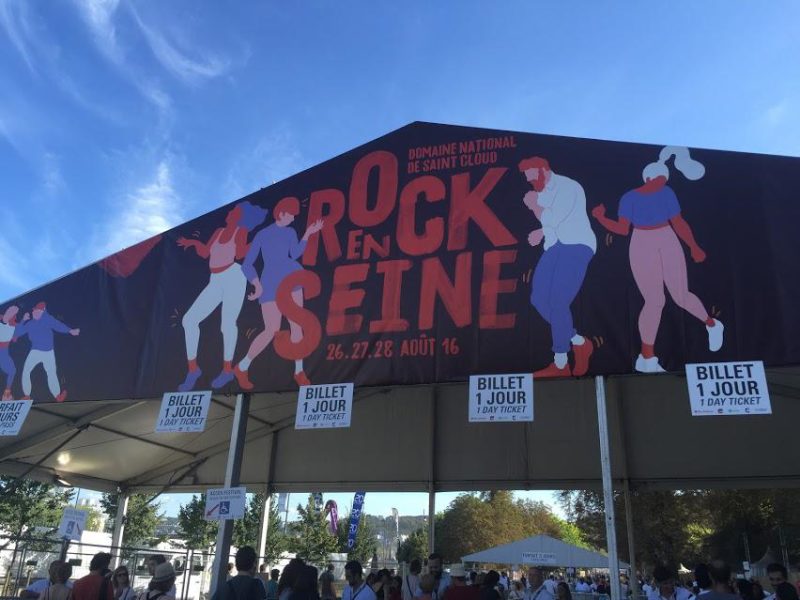 Rock en Seine is a music festival to the west of Paris in a large park named Saint-Cloud. The name "Rock en Seine" itself is a pun as the French words "scène" (meaning stage) and Seine (the river separating Saint-Cloud from Central Paris) are exactly the same pronunciation. Last year it drew as many as 120,000 people!
Just like FLOW Festival, Rock en Seine was very sustainable. Every drink was given in a collectable cup, either from this years theme and previous years. When you returned it or got another drink, you got 1 euro back. If you wanted to keep the cup, you didn't get the refund. This was a great way to recycle and it was cool to see past themes and dates.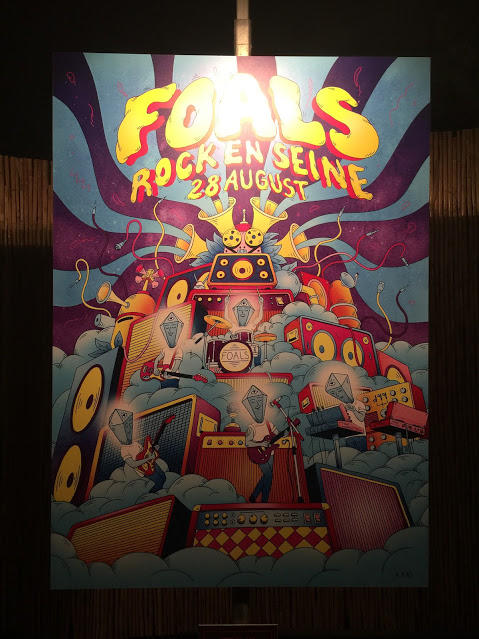 In the middle of the festival was an art exhibit by different artists. Each painting was a poster for a band playing during the 3 day event.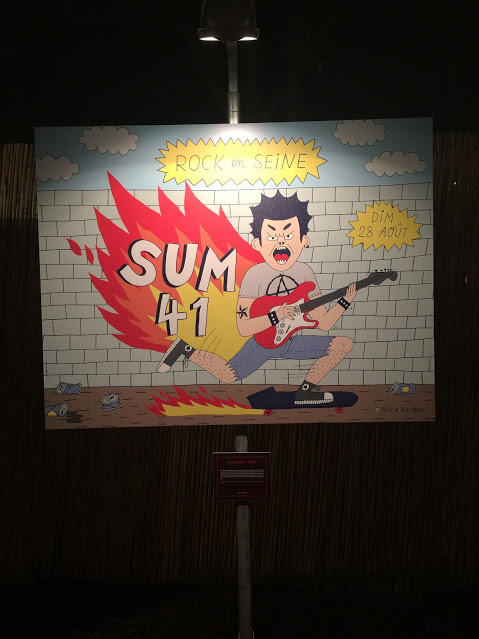 Sum 41 was the first band I saw when I arrived. Being American, I knew them growing up. I never listened to them seriously, besides what was played on the radio. They were on the main stage and drew a very large crowd. It was much more rock based that I thought it would be, so I sat in the shade on a hill to see the act.
To beat the crowd of the masses, I left Sum 41 to go see Little Simz. She is a rapper from the UK and I thought she was really fresh. I love female rappers and she really involved the crowd with a backstory before each song. She ended up bringing out Bibi Bourelly, which was awesome since I had missed her early on in the day.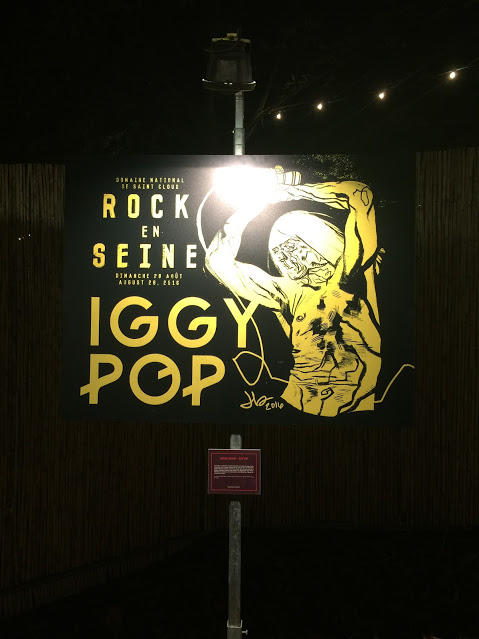 I then headed to Iggy Pop, as he was one of the headliners. I didn't know much about him, other than he was also at FLOW Festival and a very old artist. I grabbed some food to sit away from the crowd and in the shade, and I must say I was not that impressed. He was just walking back and forth across the stage and yelling things into the microphone. I did recognize the songs I heard, but I didn't wanna stay for very long.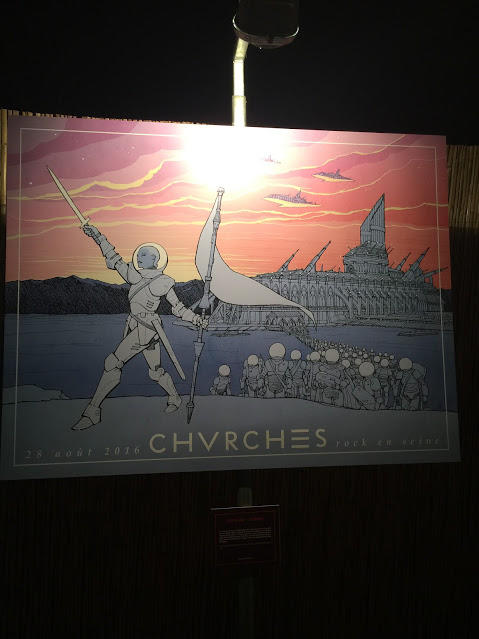 Leaving Iggy Pop allowed me to go see Chvrches, an electronic band from Scotland. They were at the 2nd largest stage, and had a very large crowd. I really liked their songs and they had a decent light show. The lead singer Lauren Mayberry has a great voice.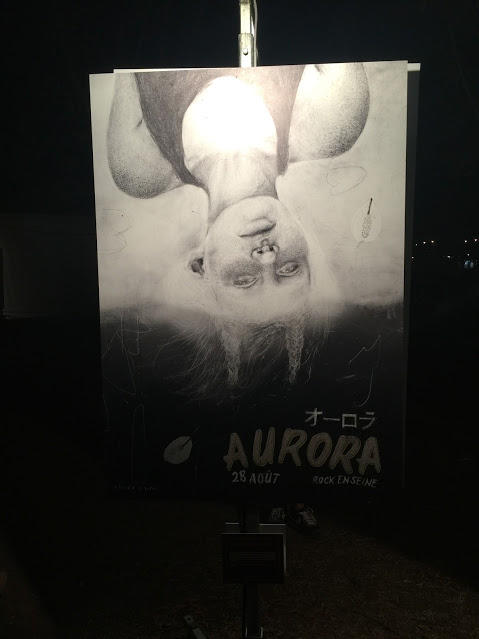 Aurora was playing at the smallest stage, so I made my way over there to get up close to the stage. She is only 19 and has an amazing voice. From Norway, she had very airy music with a strong band.
Between sets on that stage, I headed over to the DJ tent to dance! Dollkraut was playing so great mixes and I definitely let loose for a half hour.
The last performer of the night I saw was Peaches. Peaches is Canadian and the most unique artist I have seen to date. She plays extremely hard on gender equality with her dance songs. There was a lot of bass and very sexual dancing by her and her stage performers. Other than that, the songs were upbeat and made everyone want to jump! Also, att this point in the night the light show was everything.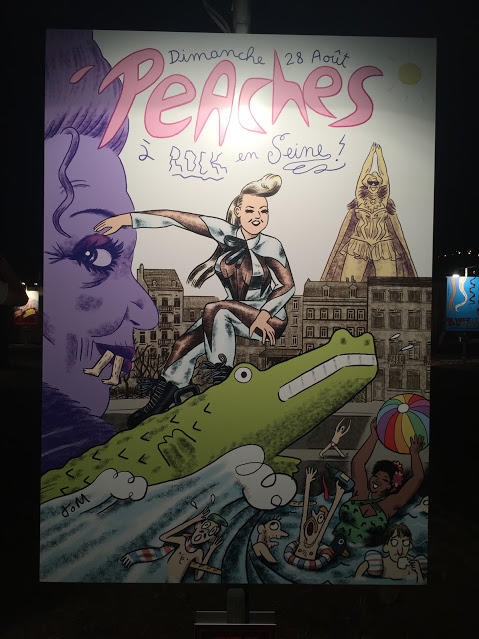 Overall I had a great day! The venue was very large and could definitely accommodate all the people there. There were ample bathrooms and food choices throughout the festival. My favorite, there was plenty of shade and even direct walkways for people who wanted to get from one side to the other but didn't wanna get food or see other stages. This was the first time I also dealt with a "Cashless" festival. Your wristband linked up with PayPal so you could preload money on it. No vendors accepted cash and you could connect your credit card to it so it auto-reload when you got to a certain amount (say 5 euro). It was nice not to worry about cash, and every transaction was super quick since there was no waiting for credit cards to process. There was a camping section for 3 day ticket holders, but since I live in the area and don't have any camping gear, I got a day ticket. I would love to come back to this venue, and this festival, if I am ever in the area again!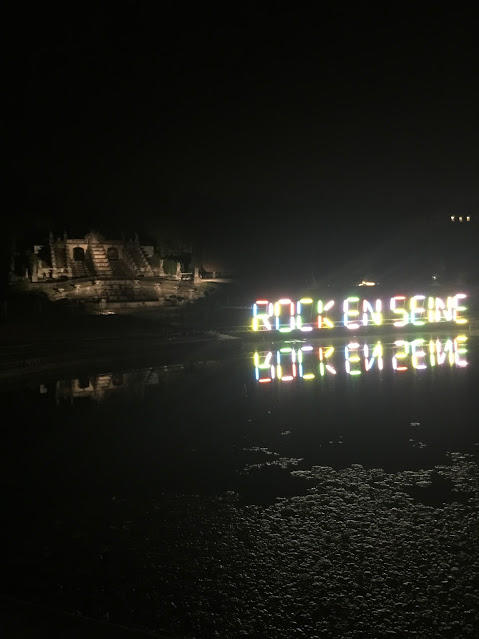 Have you been to a Festival in France?