Being a nudist, I was pumped when I saw the Auckland Art Gallery was presenting an exhibition called "The Body Laid Bare" with artwork from Tate. I decided to go during an after hours event, which included drinks and live music.
The exhibit started with paintings throughout history. Nudes portrayed Biblical and classical stories, however artists could only see models of one sex at a time. For example, if a painter was creating a scene from Adam and Eve, he could only see a nude male model as Adam and then the nude female model as Eve. This is interesting because the artists had to split the creation of the artwork up. As we go further back through history, males were "perfect" examples of God's with built bodies and muscles. Later females were portrayed more real life with cellulite during the Romanticism period. It is interesting to see this change in art because that is a huge issue in todays fashion world.
The next rooms were the "Private Nude" and "Bathers." Artwork included Pierre Bonnard's series of his wife in the bathroom. It also had nudes in spaces where it looked as though the subject was unaware they were being seen.
Next up was the "Erotic Body" and the focal point was Auguste Rodin's The Kiss. I was in this room for a good 20 min, just walking around the massive sculpture, examining it from every angle. This was also known as the Love Room, since they had sketches of intimate relationships, including an amazing series from Picasso.
The following rooms were "The Modern Nude," "Real & Surreal Bodies" and "Paint as Flesh." "The Modern Nude" included a striking sculpture from Louise Bourgeois and some graphic water color pieces regarding childbirth from Tracey Emin. I loved the feminine perspective even though it was quite provocative. "Real & Surreal Bodies" focused on Realism and Surrealism during the World Wars at the turn of the century. Cecily Brown's use of texture with paint was a favorite for me in the section "Paint as Flesh."
The final two rooms were "Body Politics" and "The Vulnerable Body." "Body Politics" had work from Andy Warhol and centered around gender & race issues. As a feminist, I quite enjoyed this section as it caused a lot of conversation within the groups of people walking thru. "The Vulnerable Body" was a section of prolific photographs, including a series of women standing up with their newborn after just giving birth.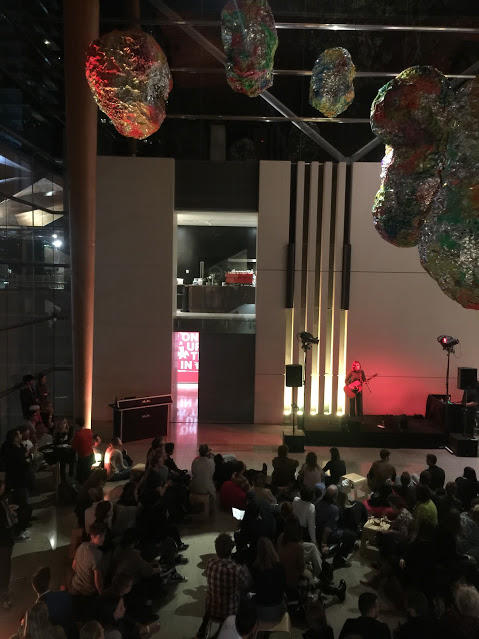 After completing the exhibition my boyfriend and I headed downstairs to hear an acoustic set from Tiny Ruins. Hollie Fullbrook is a local Auckland talent and the lead singer of the band who put on an intimate show. Her sound is indie folk and it was somewhat hard to hear the lyric's she was singing, but it did fit the night perfectly. We sat down to enjoy a glass of wine and admire the beautiful building itself.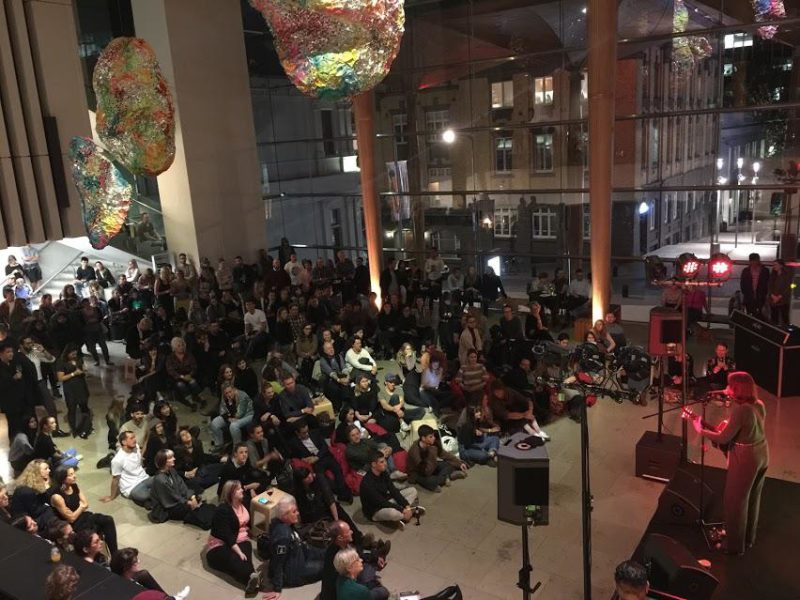 The event ran from 6-10pm and drew a large crowd. As it was my first time at the Gallery, I was very impressed. The exhibition was well organized and had an explanation card by each piece of artwork which I thought was great considering it is really rare to see that. The crowd itself was diverse and allowed for mingling thru a late night of art and music at a museum.
Art exhibits are always a great way to support your local museum. I try to get a statement piece from each exhibit shop I go to and a coffee table book is always a great idea. Check out this book about Rodin.
Have you been to an after hours event at a local museum?