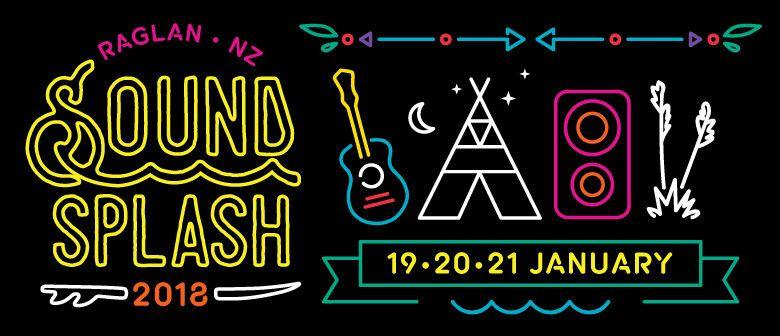 Last weekend my partner and I went to Sound Splash Music Festival in Raglan. It was our second time in Raglan, and our second music festival together. For New Years we went to Rhythm and Vines and it was full on. Sound Splash was low key, not because it was in a surf town, but because it was an all age festival.
For this festival we did not camp, even though camping was an option. We decided to stay at an Eco-Resort called Solscape. It was less than a 5 min drive from the festival, and there they had camping, hostel style rooms and private rooms. My partner and I got a private "Caboose," which is actually an old train caboose! There was a communal kitchen, showers, cafe and wifi by reception. We checked in on Thursday night and the did a yoga class. It was more of a meditation and we both enjoyed it! It was the perfect way to start our weekend.
My friends were in a 5 person tent. It was roomy and had carpets. Neither the private rooms nor the tents had outlets, so we had to use the common areas for those. That was a little annoying because everyone had to do that, thus rare times to get an outlet.
Overall the caboose was bigger than we thought it was going to be. The space was very relaxing and the service was good. I loved the vegan cafe and yoga class. Another perk of this location, we were able to arrange a bus to pick us up for the festival. It was $40 for 10 people or less and the driver was blasting music which was the best way to roll up to the festival. I would recommend this place in a heartbeat and we hope to stay there again soon!
Now's time for the music… the festival was Friday, Saturday and Sunday. My friends and I arrived around 6:30pm on Friday and we were excited to see the amount of vendors. From clothes and jewelry to sunscreen and tattoos, there really were a lot of options! This was great because it helped kill time.
On Friday night we saw SWIDT who was a hip hop rapper. While at the bar we heard King Macka & Jinja Cat, which was a good mix of party songs to get the night started. My friends and I then set up my air couch to create a"home base" for Ocean Alley. They call their sound "Psychedelic Reggae Fusion" and we all really enjoyed it! It was mellow but had good vibes. I was waiting to see Slumberjack, and he killed it! His graphics were pretty simple yet his beats were awesome. My best friend and I ended up in the pit and it was so awesome! The night ended with P-Money. He was at a side stage under a tent and it was so crowded heat was coming out. We stayed toward the outside but he put on a great set. I would definitely see him again, even though I also saw him at R&V.
Saturday was Katchafire, Shapeshifter and Dub FX. Katchafire is a Kiwi band made up of Maori musicians that play fun reggae. I was looking forward to seeing them… but was not that impressed because they kept yelling to the crowd and saying the wrong city name! Shapeshifter was the main reason I got tickets to this festival, and they did not disappoint. Their style, again, is very kiwi. They do reggae rap with EDM drops and beats. I really enjoyed their set, even with some technical difficulties.
Dub FX was last and he was pretty cool. I didn't know anything about him, but I found out he does beatboxing. The main stage was pretty unique because it was like a natural, outside amphitheater. He was very impressive! We decided to skip out on Sunday, as it was just a few bands in the morning. Saturday day and Sunday morning we hung out on the beach and got lots of sun and some surfing in. The festival wasn't on the beach, but it was super close to the camping sites.
At the end of the weekend, I came to the conclusion I would come to this festival again. Why? The vibe is chill yet they still deliver with some big acts. I did not like the fact drinks could not be taken outside of the bar areas, even though this was enforced because it was an all-age festival. That was also a first for me… I've never been to a festival with kids running around. I think thats a great concept during the day, but not at night. This festival was also cashless and used AWOP on the wristband. This is fine as I'm used to it by now. The issue was not all vendors took it! With that being said, I was very impressed with the amount of options to eat. They had a great variety and even vegan options! The great things about this festival outweigh the things I would change.
My new festival MUST have: an air couch. Yes, you may look like a fool filling it up, but its so convenient and can fit anywhere from 1-3 people. Its better than sitting on the grass, let alone wet grass or even mud and it folds up into a bag!
Have you been to an all-age festival before? What do you think about it?