Last weekend I attended two concerts at two different venues in Paris. One was Faust Night Club, while the other was Trianon. I had a great time at each event but they were also very different places. Here is a comparison of the two venues:
Friday night was an all night dance party at Faust! Faust is located on the Left Bank, under Pont Alexandre III. It is nicknamed the "Tunnel" and for good reason. It is a large rectangular room that has a VIP lounge and cafe. The VIP area is behind the DJ booth, so I was glad I did not upgrade my ticket. The cafe was nice, but it was also the smoking section. I am not sure why they didn't allow for re-entry for smokers or just have an enclosed smoking section outside. Since the concert started at Midnight and ran until 6 am, it was nice to have coffee in a quieter atmosphere.  When I entered, I was forced to check my coat. There were 2 bars and one mixed drink station. Not enough for the amount of people there, but it was a smaller venue. My favorite thing about this venue was the ceiling. It was hundreds of light bulbs that changed color and made different shapes. It added to the light show immensely.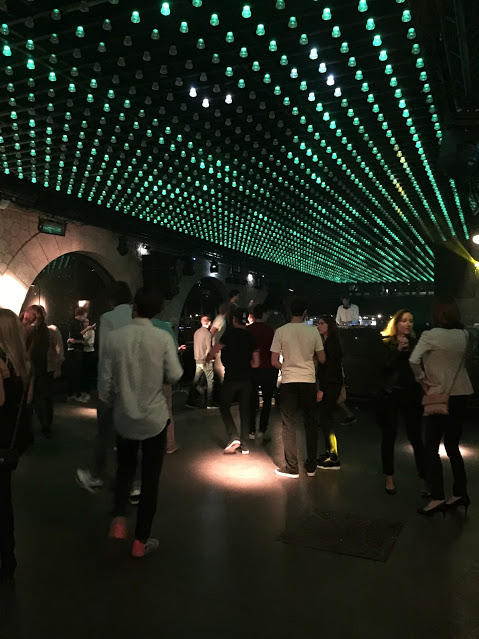 This all night dance party had 4 sets of DJs on the line up. I went to see Lemaitre after finding out about them at Rock en Seine. I missed them for that festival, so I wanted to see them live. They were up third and did not disappoint! I was up front during their set but was a little disappointed to see it was only one DJ doing all the work… they are a duo of two guys from Norway.
After seeing what other DJs would be there, I gave them a listen. LeMarquis is a Parisian DJ who had a few songs I liked. He was up second and I really enjoyed his set. He played a mix of current rap, hip hop and R&B, along with his newer songs like "Feel That." His sound is fun and airy with vocals.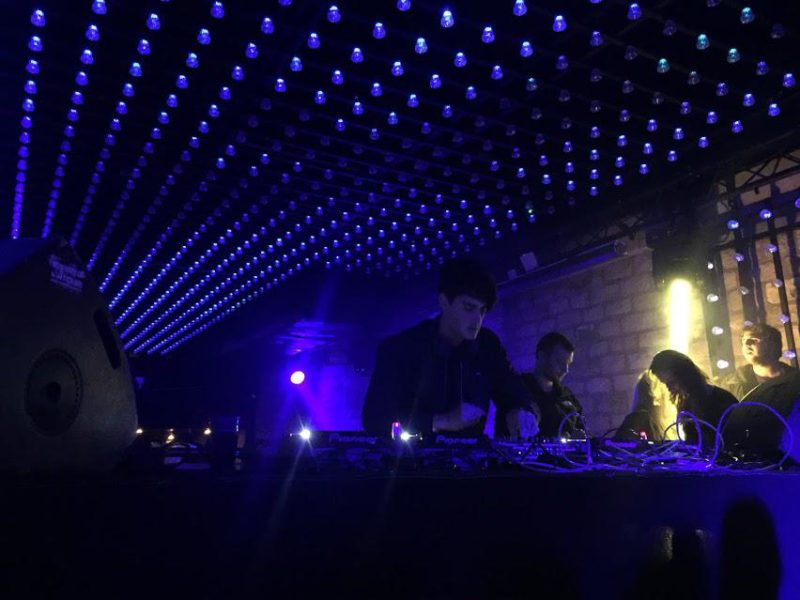 Lastly was Tilka, who disappointed me after hearing his music online. He had about 4 songs I wanted to hear that were a mix of house sound with pop lyrics. He didn't play any of them and his beats were heavier than I expected. I still danced a lot… but I wanted to hear the songs that made him popular like "Love!"
---
Monday night was The Chainsmokers. I was super excited about seeing them, as I also missed them at a previous festival; Moonrise. They were originally going to play at a smaller venue, actually across the river from Faust, but it got sold out. In order to sell more tickets, they moved the event to the Trianon on the Right Bank. The venue was super easy to get it as it was right off the Metro and it's in my favorite part of Paris: Montmartre. After 2 days of selling more tickets, this concert was again sold out! The venue was very large; it had a huge dance floor with 2 floors of seating. It appeared to have been a small opera house, as it was decorated very ornately.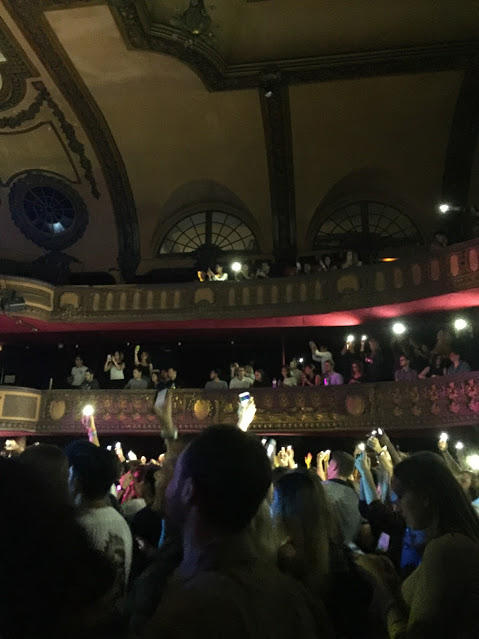 The first act was The Him. I only heard a few songs by the time I got there, but they had a great sound and even better drops. They had a decent light show and definitely got the crowd ready for The Chainsmokers. Later on during The Chainsmokers set, they came out again to do a song with them. I thought that was pretty cool and fun for everyone.
I started in the pitt, as I wanted to dance and be as close to the stage as possible. But once the show started, I could see that they had great visuals on a screen. Being short, I could not see it… on top of everyone having their phone out. So I walked toward the back of the crowd. I could see much better, but I wondered if I could go upstairs. There was a man checking tickets so I assumed you had to pay for an upgrade or something. After walking around for a song, trying to find a spot I liked, I just went over to the stairs. All he did was hole punch my ticket and I was upstairs! Not only could I see the screens better, but I could see the decor of the venue better as well. It was not crowded so I was able to put my jacket and purse on a seat. They played for an hour and 15 min and it went by way to quickly! They mixed a lot of great songs together and played all of their hits. I was a little upset that they only played about 1 minute of #SELFIE, but other than that, they gave a great show.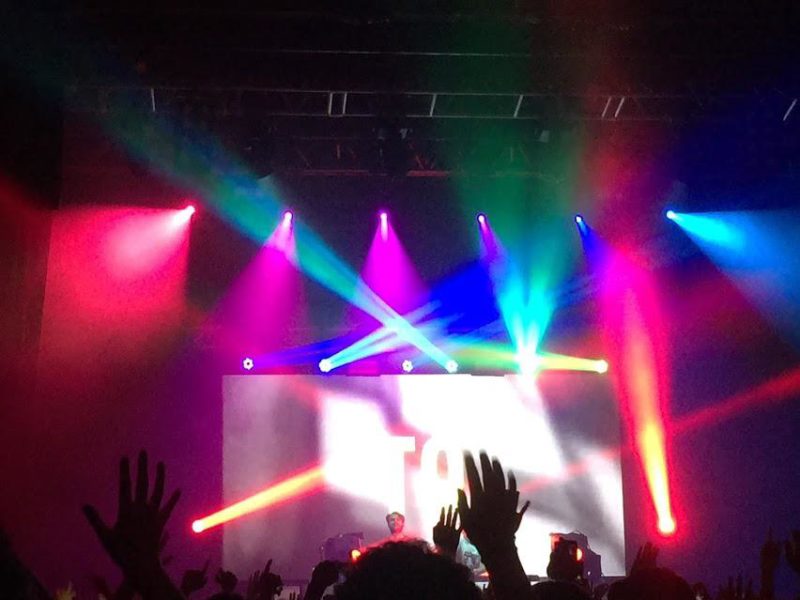 Trianon could hold a lot more people, which meant they also had more bar space and bathrooms. Once I got upstairs, I liked how each floor had seats outside the main hall. This allowed for you to get some air or just take a break. There was very limited seating in Faust. When I got inside of Trianon I was not forced to check my coat which was nice. Trianon also allowed for smokers to go outside and come back in. As a non-smoker, I think this is the best thing to offer for both parties.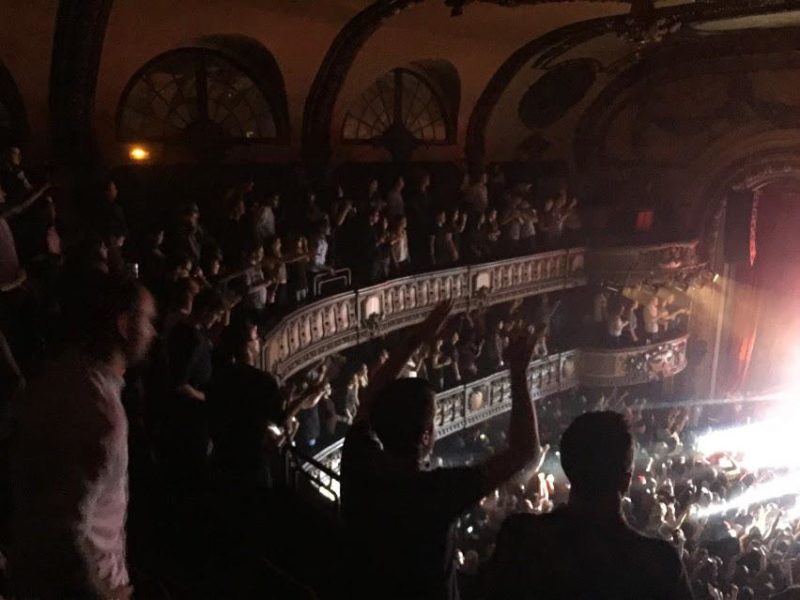 Overall, both acts and venues were awesome. I would have to say that I enjoyed The Chainsmokers more than the 4 DJs on Friday night, however, I think I liked Faust better. It was smaller and more intimate.
Have you been to concerts in a new city to check out the venues?